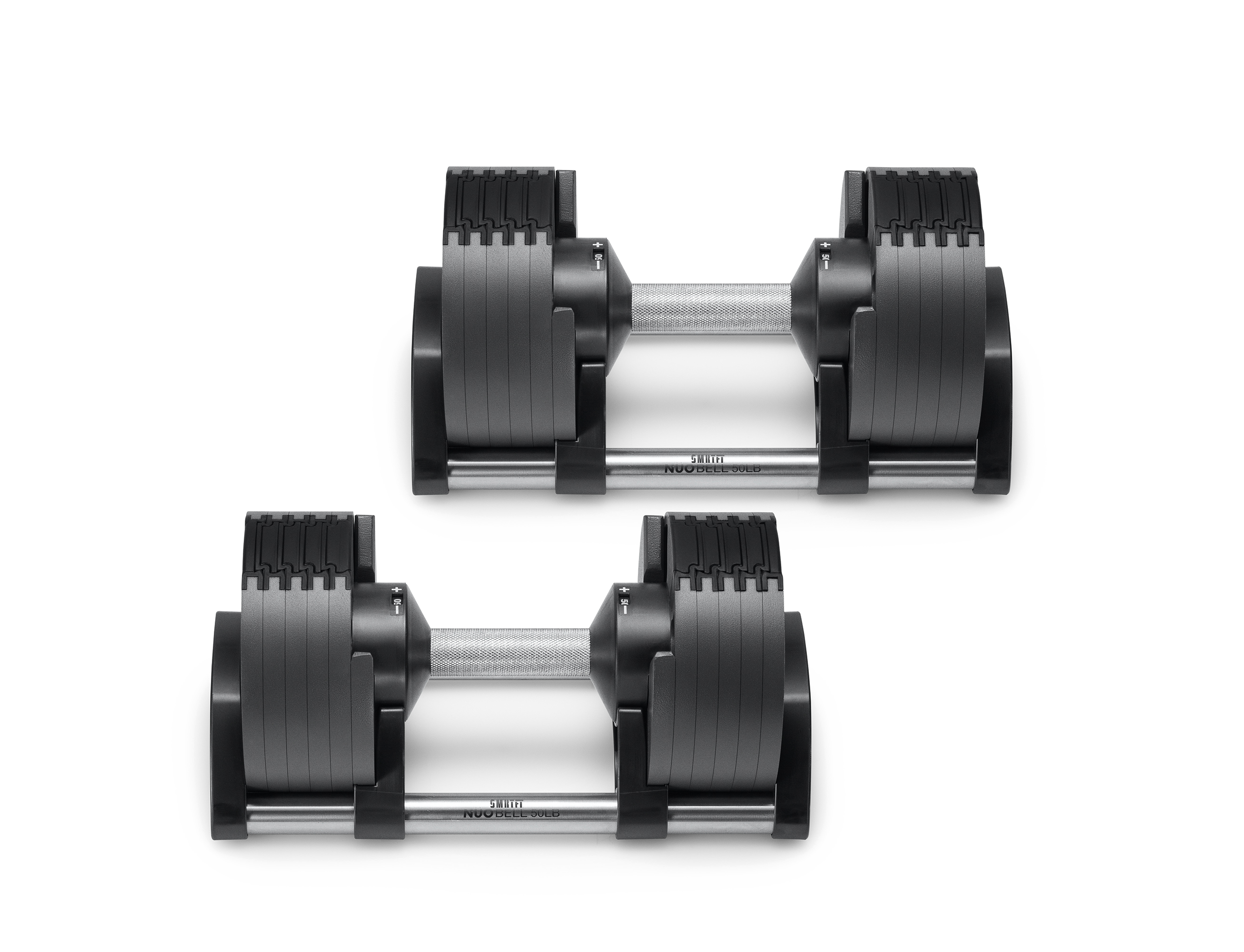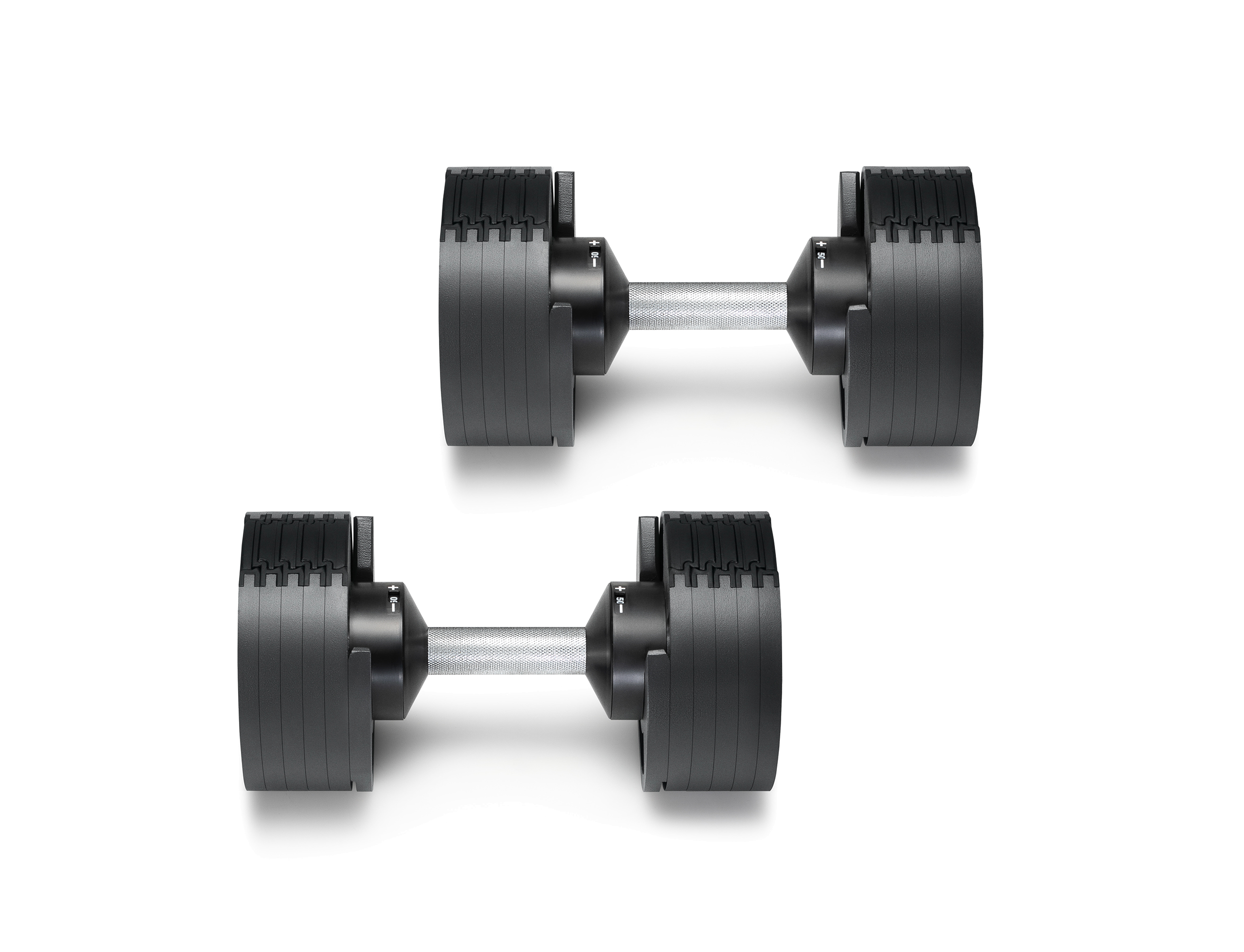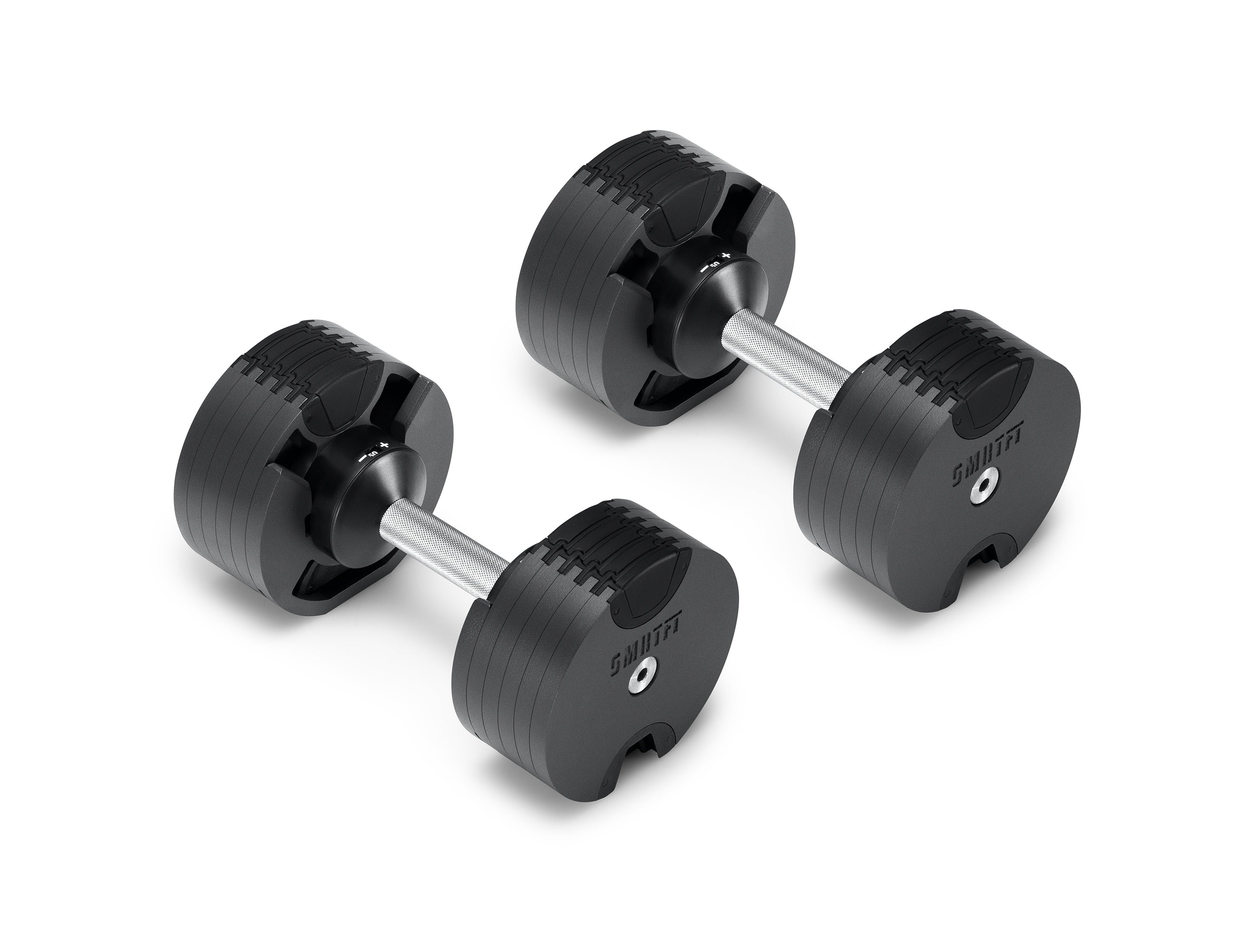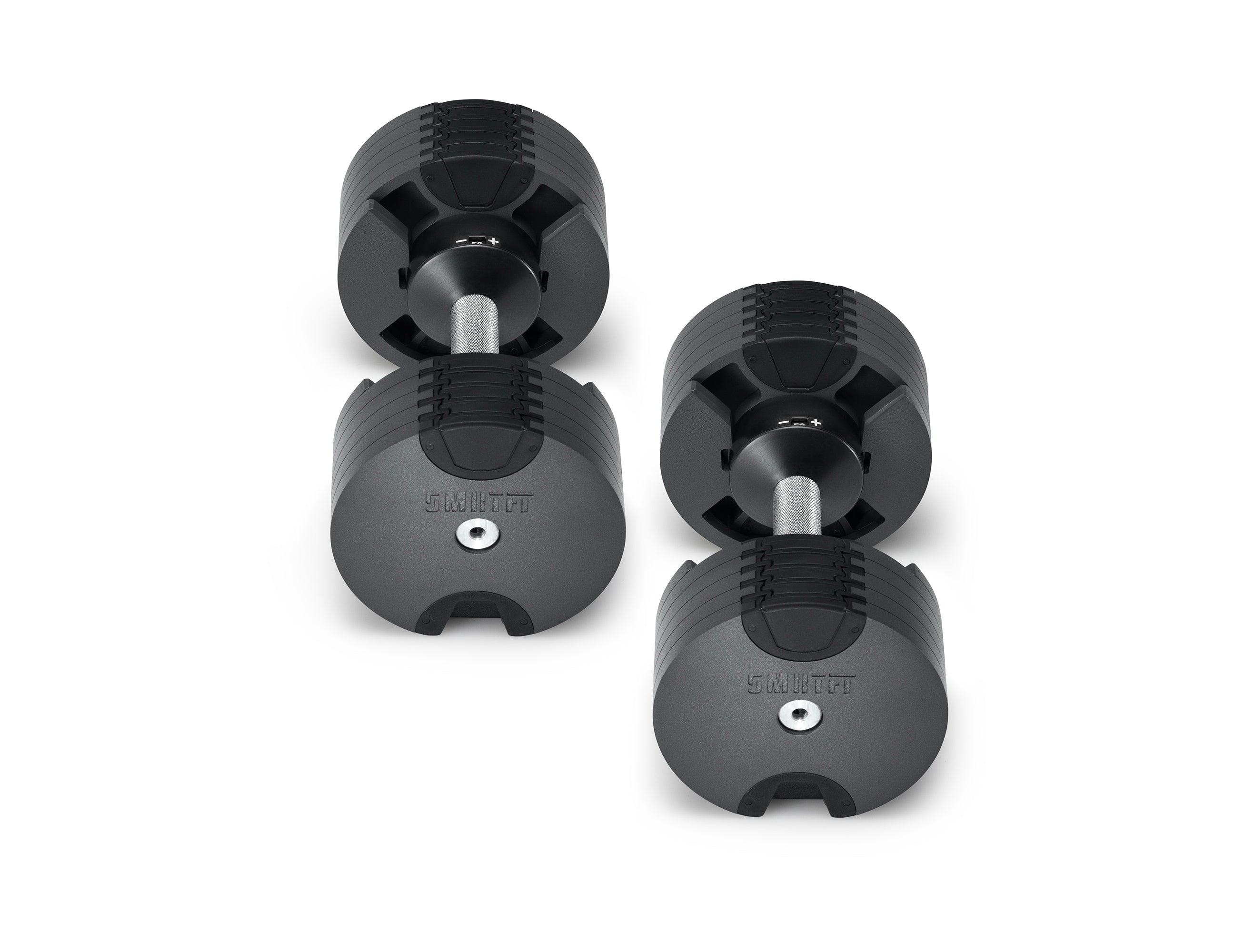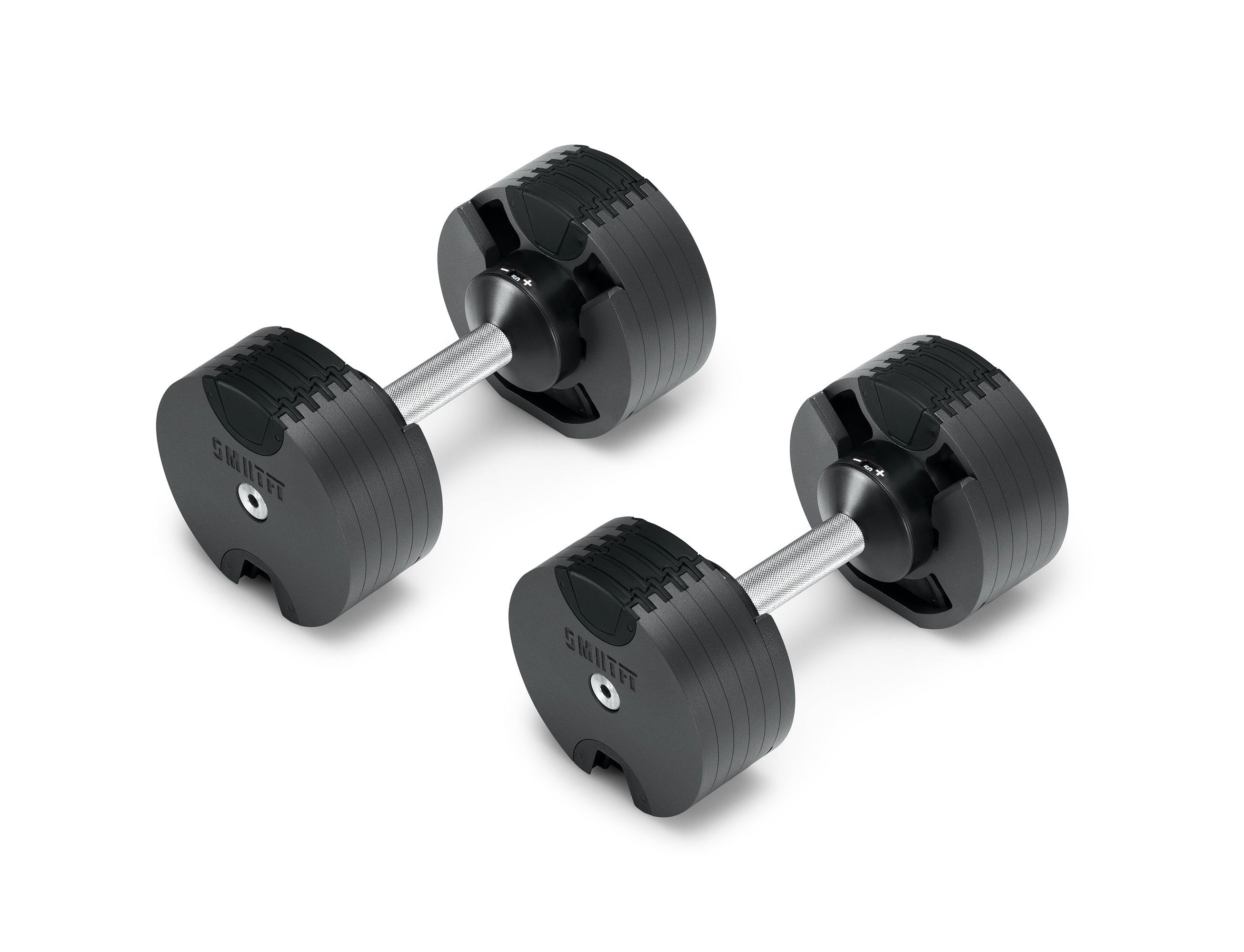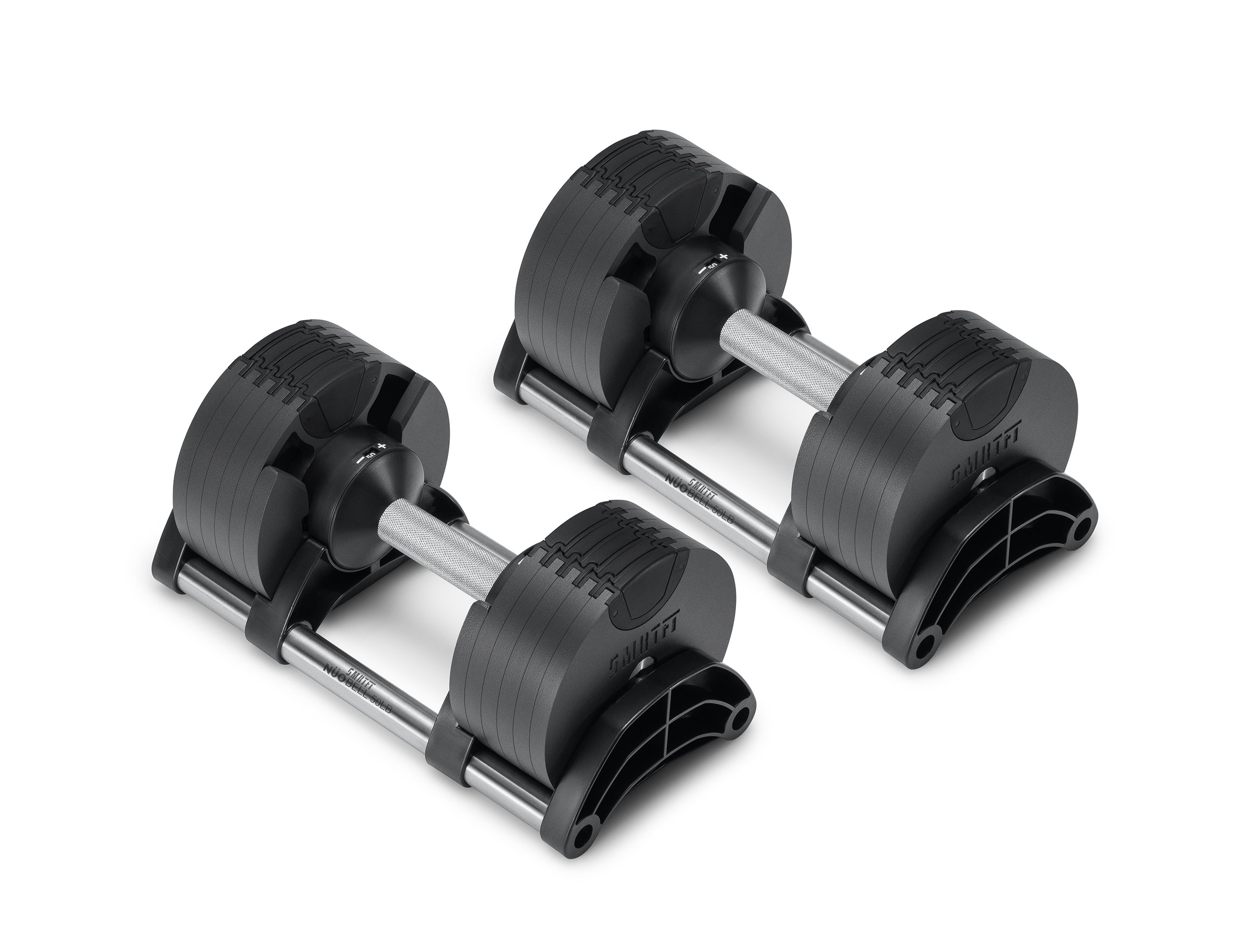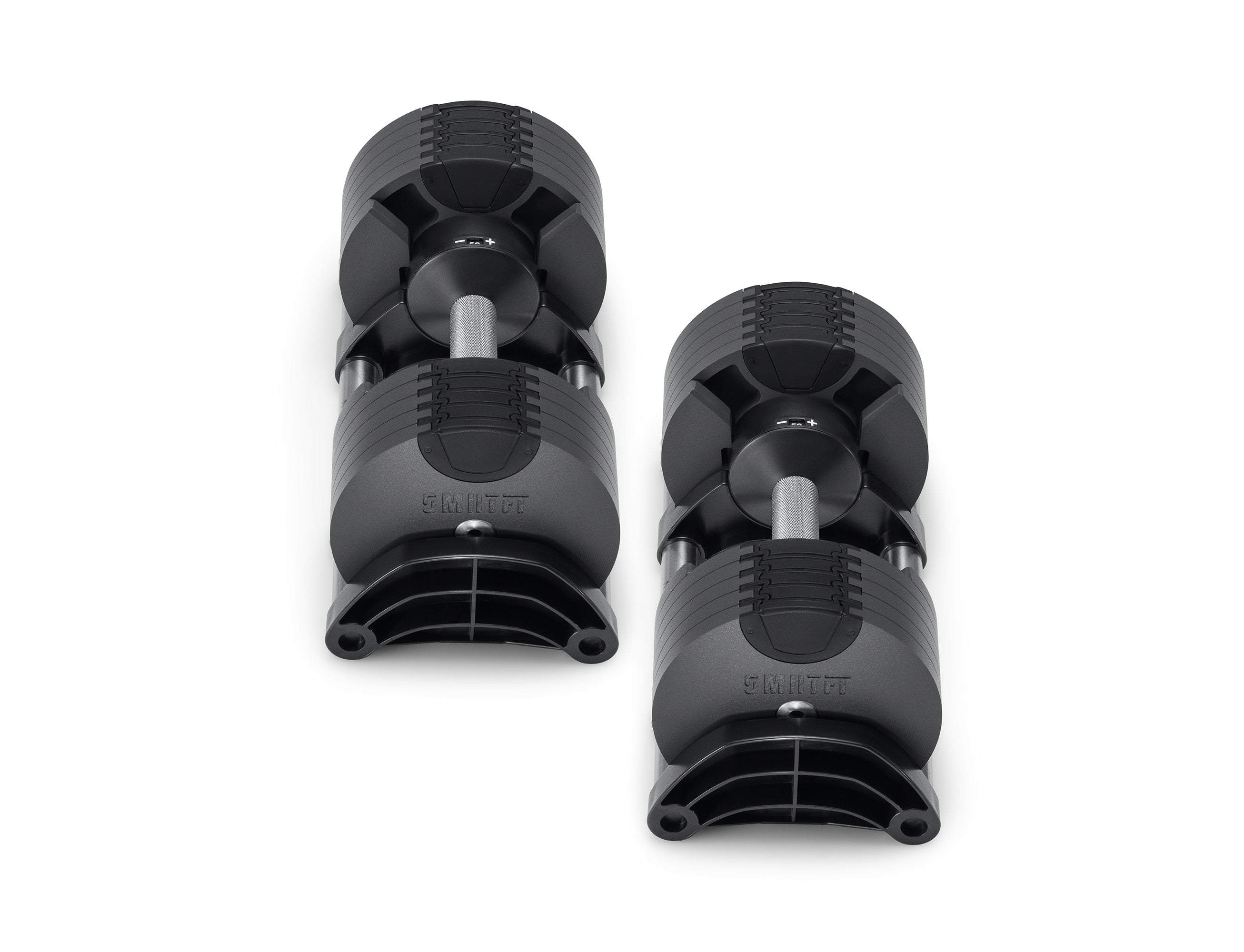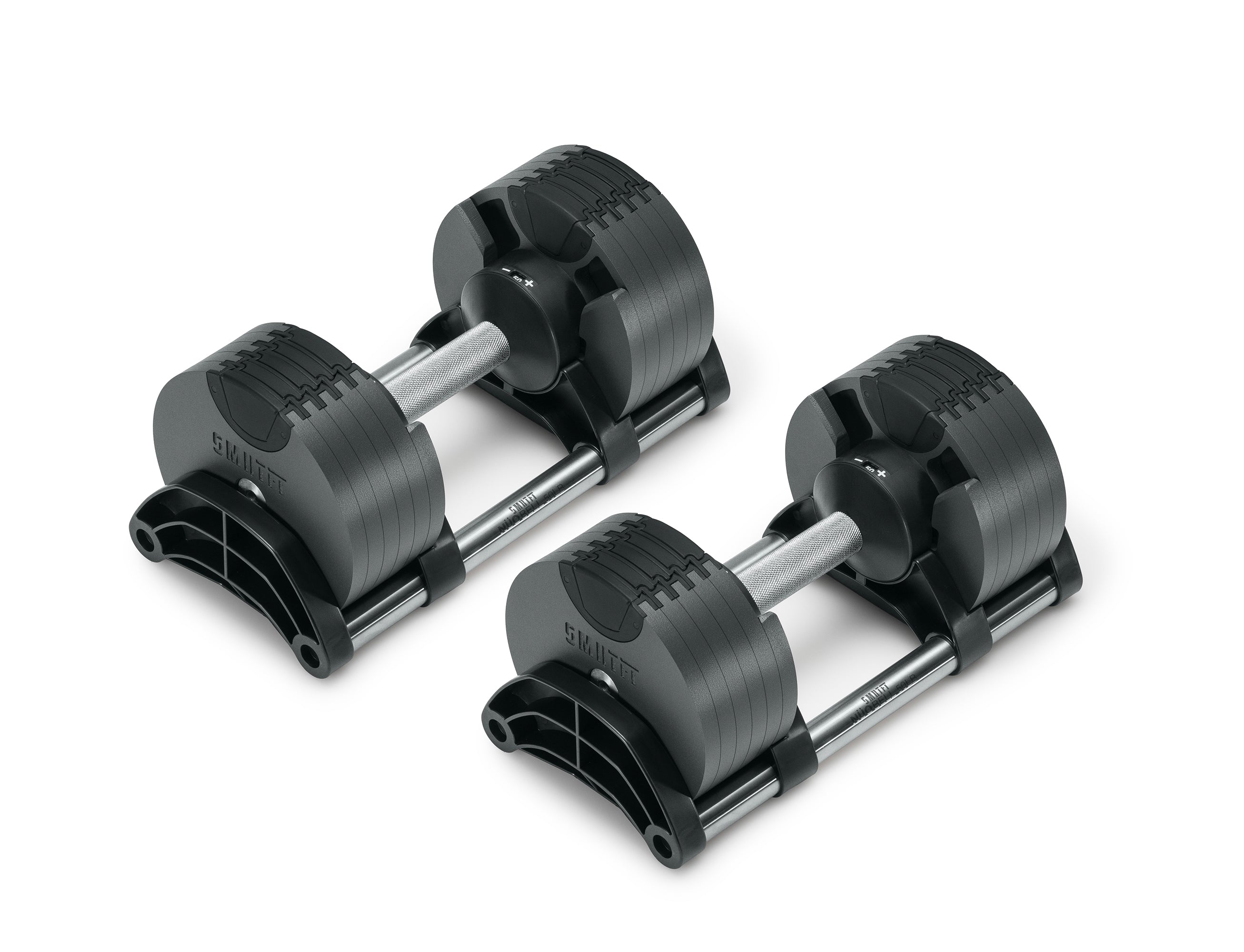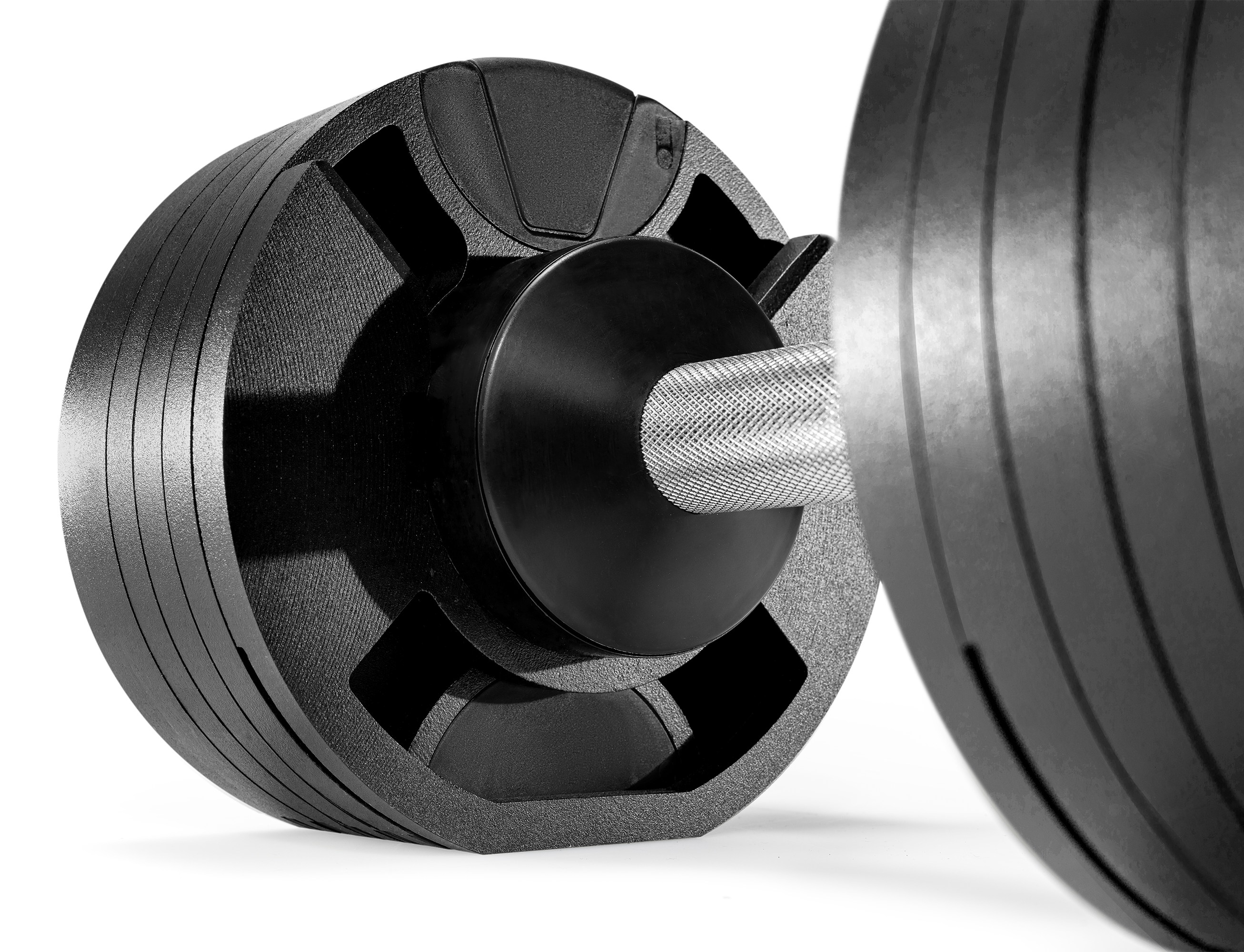 NÜOBELL 50lb
NÜOBELL give you the convenience of all-in-one adjustable 5-50lb dumbbells that are easy to use and have superior durability thanks to its machined steel weight plates. This innovative dumbbell set will quickly become your go to favorites.

These are sold as a set of 2 x 50lb adjustable dumbbells

Weight Range lb


5-10-15-20-25-30-35-40-45-50

The material is steel and plastic
Net weight: 50lb

Dumbbell dimensions: 15.5x7.5x7.5"

Includes portable cradles for both adjustable dumbbells.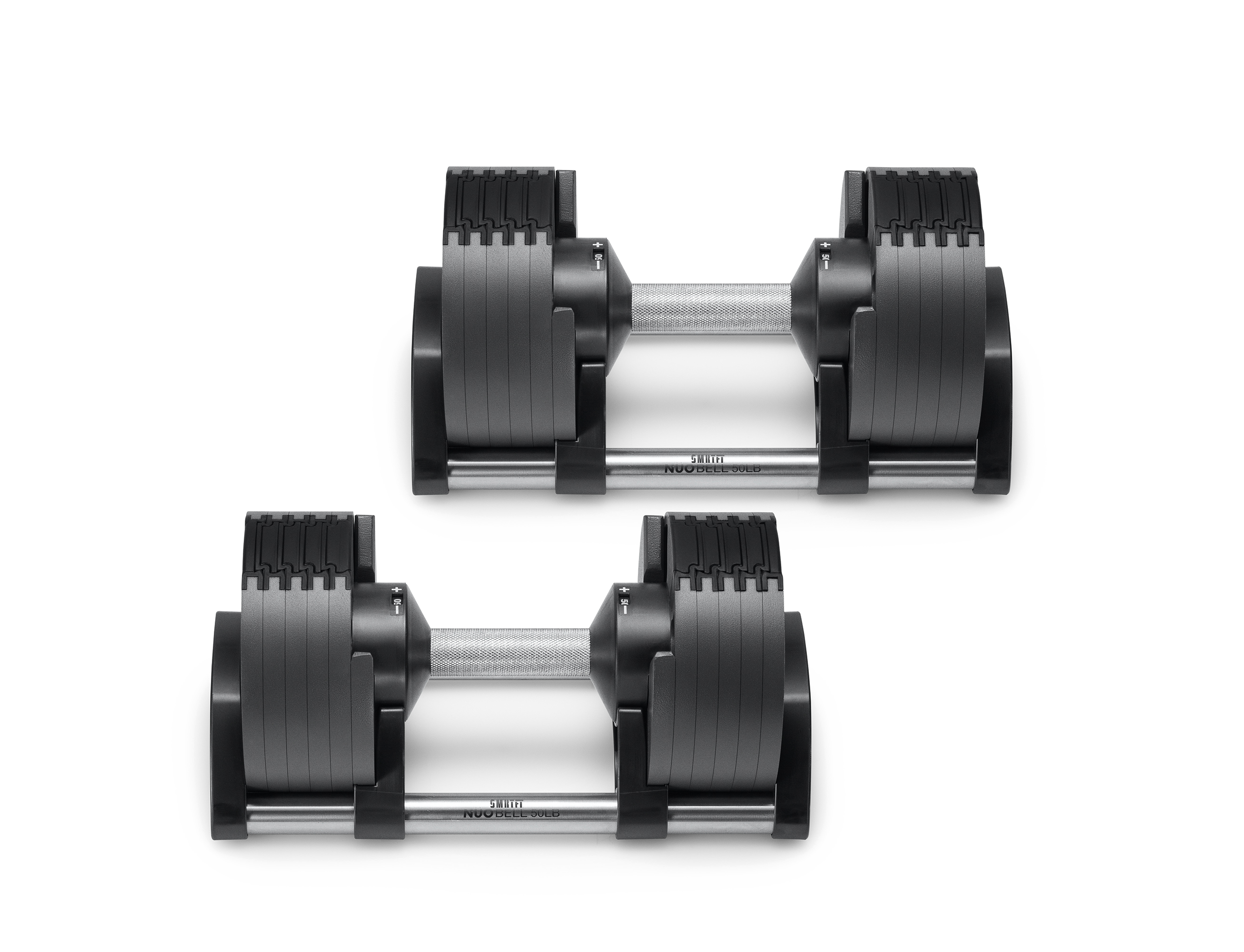 "Working out with a pair of Nüobells feels nearly identical to traditional dumbbells."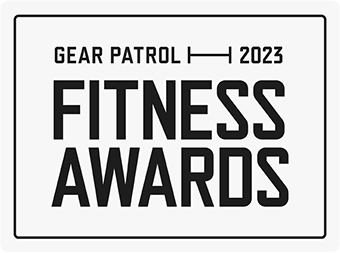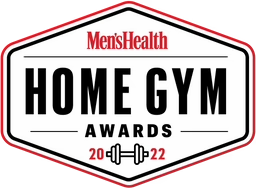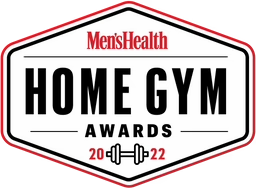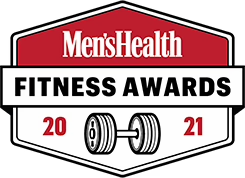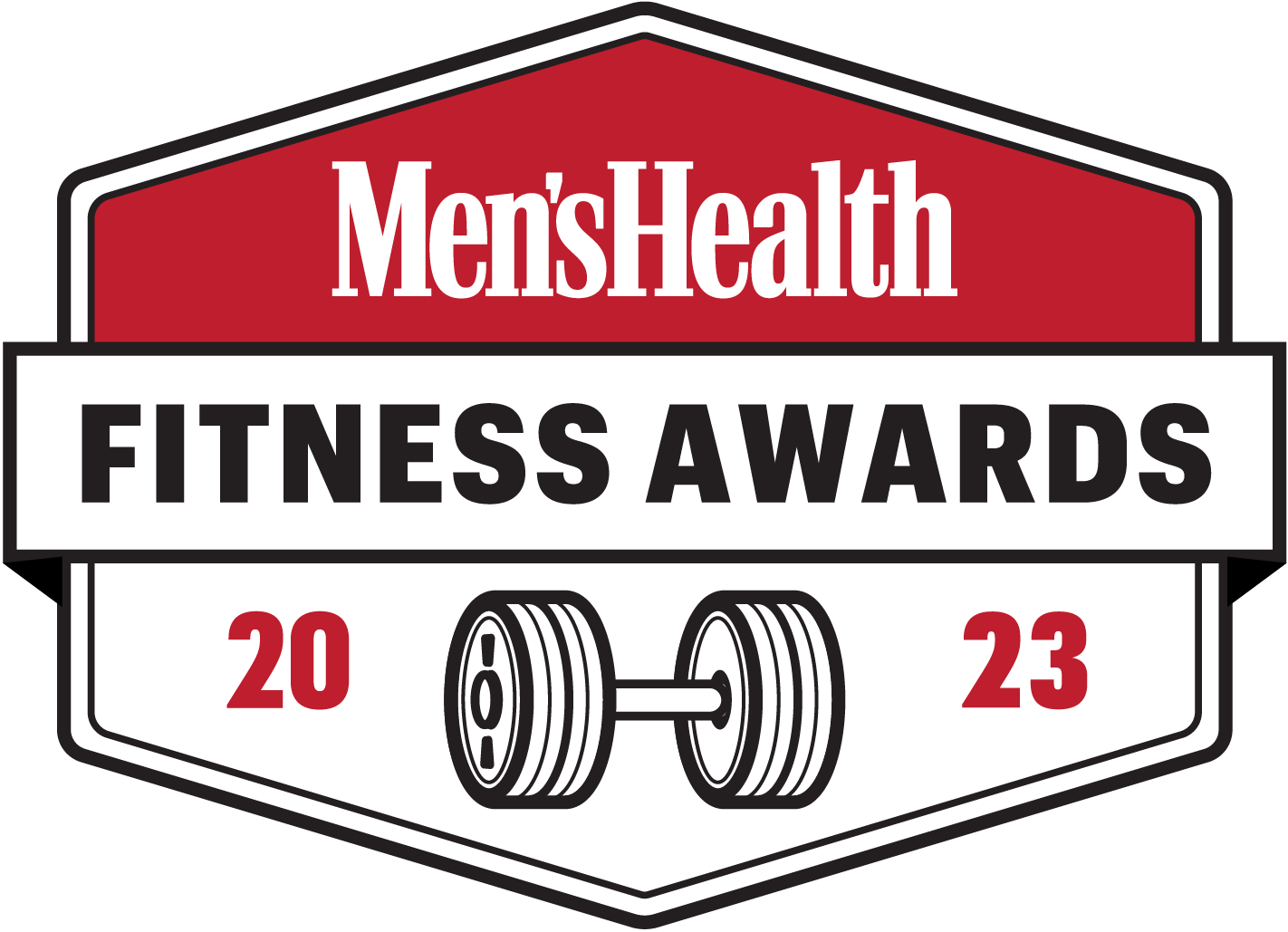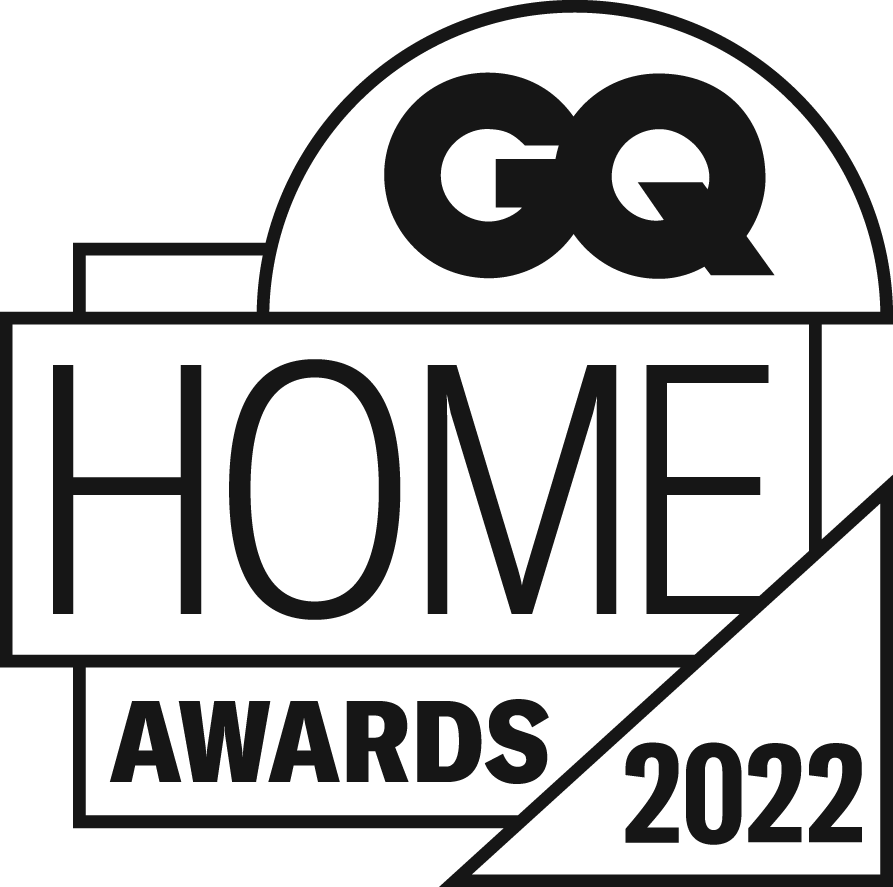 10 weights in 1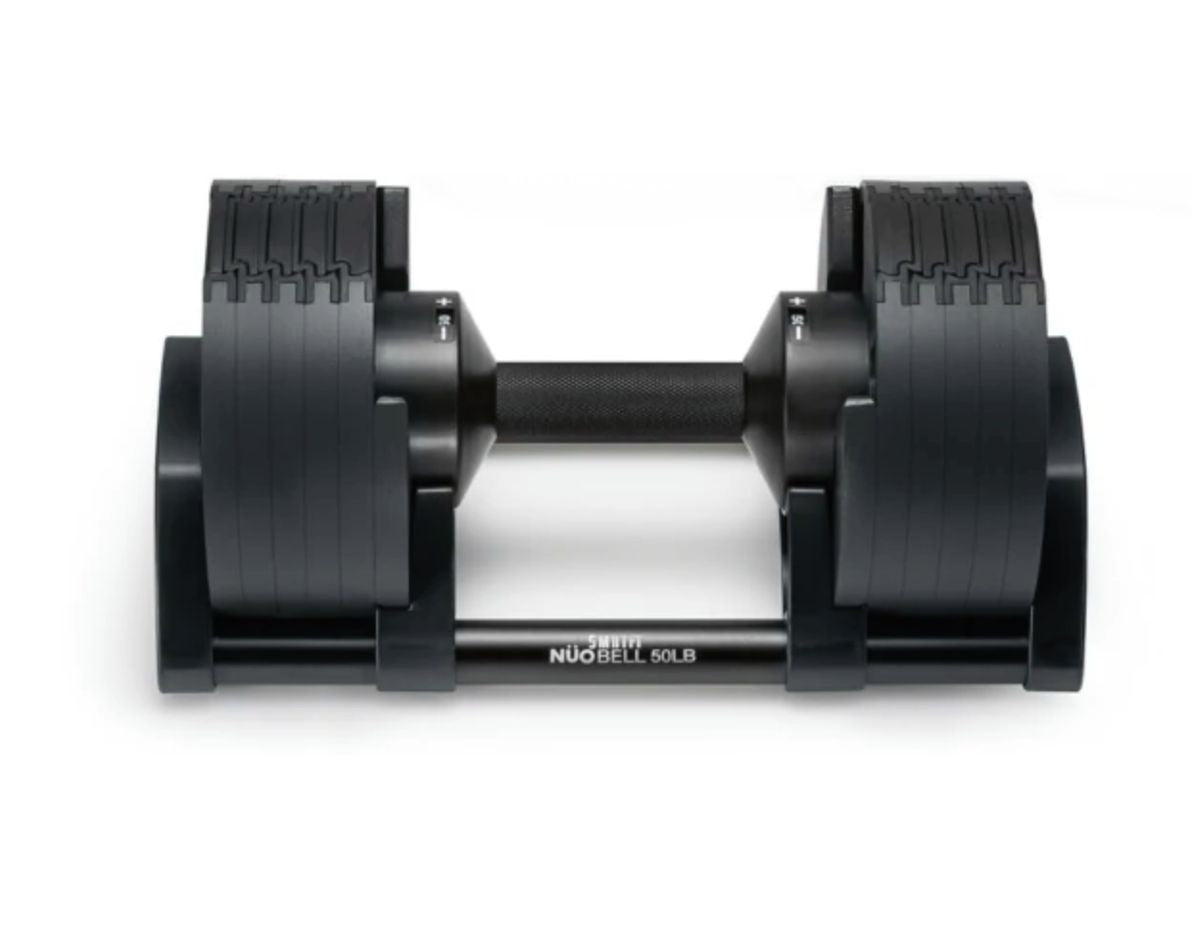 Be part of our community on instagram @_SMRTFT
This product is rated 4.8 of 5.0 stars.
It has received 1607 reviews.
By far the best adjustable ones I've used
Most of the adjustable ones either are loose or don't give you the same versatility as solid ones but these I can do anything a normal solid dumbell can do
Pkg was destroyed, but dumbbells have worked flawless. These are not meant to be thrown around, so be able to control the weight. All in all a great investment. Wish they made 100lb.
So far so good
Had these a couple of weeks, and I have no complaints. I love the feel, and the rapid changing system is absolutely awesome for my workout flow.
Smooth
Very nice! I'm able to get rid of most all of my dumb bells and clean up my workout space. They have an impressive look to them and its perfect that they go up to 80 lbs!
Frequently Asked Questions
Why do you use plastic in the dumbbells, given that they are a more expensive product than some competitors?

At SMRTFT, we take durability and quality seriously. They are both values that are extremely important to our company and culture. After extensive Flexural Strength Testing, we can say that the resistance and durability of the type of plastic we use is actually stronger than cast iron.
What's the difference between SMRTFT NUOBELL vs. other look-a-likes/copy-cat products?

Look-a-likes are using old 32kg twist technology, which cannot handle more than 32kg (70.55 pounds). Some counterfeits honestly state that their dumbbells are 70 pounds. However, many manufacturers instead claim that their weights are 80lbs when they are only 70lbs. Worse, some manufacturers add 80 lbs with the old technology. This is unsafe and dangerous.
My biggest problem with other adjustable dumbbells is that they don't feel real. Do SMRTFT adjustable dumbbells feel "real" or like traditional dumbbells?

At SMRTFT, we only sell the most innovative, highest-quality fitness products on the market. SMRTFT NUOBELLs feel like traditional dumbbells. They have comparable knurling (the horizontal and vertical crossing lines on the handle). We aim for a mid-range knurling feel. The size of the dumbbells, at any weight from 5 to 80 lbs, is similar to those you find at your local gym. Also, we arrange the plates so that you don't have a bar sticking out the end, no matter the weight. Many other adjustable dumbbells are designed differently and feel "weird" for seasoned weight lifters.
One thing that makes me nervous about the SMRTFT adjustable dumbbells is that they don't seem durable. With so many moving parts and plastic, are these things built to last, or are they going to fall apart after a few drops?

We thoroughly research and design our product and only sell top-of-line fitness products. SMRTFT NUOBELLs are designed to be highly durable under non-commercial use. We understand our community might think this because the weights adjust so seamlessly. But, with regular use, the SMRTFT NUOBELLs last for years. It should be mentioned that similar to other adjustable dumbbell products, we do not recommend dropping or slamming the dumbbells. If you have any concerns about how your NUOBELLs operate, simply reach out to our Support team with photos and/or videos of your NUOBELLs, and we're happy to help! You can add 1 or 3 years of our SMRTCARE Extended Warranty on top of the built-in 2-year Manufacturer's warranty that comes with your purchase.
Do I need the stand made for these, or can I use any stand I can find?

We absolutely recommend the stand that is custom-made for the NUOBELLs. As with all SMRTFT products, they have been designed to be the best on the market. Every time you pick up and set down your weights, you could be placing down as much as 160 pounds. Our stands can withstand that weight time after time. We also design the stand to be at the perfect height for you to not have to put improper strain on your lower back. The stand also has rubber feet that do not scratch or mark your floors.
These dumbbells are expensive. How are these dumbbells different from loadable dumbbells?

SMRTFT NUOBELLs are a space and time saver. They make your home look better and provide a more efficient workout. You do not need to buy many different dumbbells to have one workout. In fact, when you consider the cost involved with buying multiple weights, SMRTFT dumbbells are frequently a much less expensive investment. When comparing NUOBELLs to other adjustable dumbbells, you never have to worry about storing extra plates or taking plates on and off loadable handles, as these adjust at the twist of your wrist! All unused plates stay situated in their cradles. To adjust to a new weight, simply place the dumbbell back into the cradle, and twist! These provide a much more efficient, aerobic workout than loadable dumbbells. We are here to help you get stronger and fitter in a more effortless, more efficient manner!
There is a lot of plastic on these. Will they hold up if I use them in CrossFit-style workouts?

In our experience, we have plenty of customers who use SMRTFT NUOBELLs in CrossFit type environments. We are always here to help you get fit and more muscular in the way you most enjoy doing so! But, we need to mention that our adjustable dumbbells should be set or placed down instead of dropping or throwing them down. We're hoping you're not throwing around any brand of 80-pound dumbbells! If you remain in control of your weight selections, these will last!
I am afraid of using any adjustable dumbbell overhead. I feel like the plates will fall off. How do these plates stay on?

SMRTFT NUOBELLs are designed to hold the round plates on the dumbbell in multiple ways. First, the handle extender extends through the middle of the plates. Second, the tongue-and-groove system at the top and bottom of each plate, where connectors interlock to secures the plates to one another. We recommend that you check that everything is set up properly prior to starting a workout with any equipment you use to get stronger.
It doesn't seem like these are held together tightly. Is there a lot of movement between the plates?

The plates are securely interlocked, but there can be small movements when the dumbbell is in use.
I have seen several reviews that show people weighing the dumbbells on their home scales, and the weight isn't what Nuobell says they are. How do I know if I order an 80 lb set that they won't actually weigh 70lb as I have seen online?

You might be reading a review of a knockoff, but our SMRTFT NUOBELLs weigh as advertised, 50 or 80LB.
When can I expect my order to ship, and how will I know when it is shipped?

Orders ship within 1-2 business days. Occasionally, during busy times, it may take a few days longer for processing. Unlike our competitors, we have ensured that we have ample inventory during the supply chain management problems that our world is encountering. Once your order has left us, you'll receive an email with your tracking information so you can follow its progress. If you are having trouble tracking your order, you may email support@smrtft.com for assistance. Pre-orders have their own available ship dates.
How much will it cost to ship my order?

We offer free shipping for dumbbells in the lower 48 United States. Orders for masks and socks over $30 ship free via standard shipping. Stands ship via UPS, and the shipping rate will be calculated into your final order upon checkout.